2 o'clock, and its 31 degrees outside with no wind, where is that thunderstorm you(whoever that is) promised?!
Apart from having taken an hour's walk this early morning, I haven't done much so far. The little one had her lunch and today's solid was 2 cubes of sweet potato puree and she went bananas (just like yesterday and the day before)! I know I should feed her more types of fruits and veggies, but her cheerful face, when she sees that orange thing in her bowl, is just priceless!
Now she's taking her afternoon nap, with this weather, guess she's gonna sleep till 4. Yeah, I know what you're thinking, "Lucky me!" Yes, yes, I've to admit, she slept through last night till 6:30 am for the first time in weeks, and had a quite "active" morning just like last few days(if you know what I mean), I really have nothing to complain.
So now with a jug of water for me to finish and a lazy puppy occupying the whole couch, I feel like making something sweet for my little snack time. My new favorite — Almond meal cookies!
It's quick and simple, perfect for a day like this! Or, just perfect for every day 🙂
2
Get a large bowl, combine above ingredients all together, mix till they're fully combined like a soft dough.
3
Take a tablespoonful amount of the dough, and roll them like a ball, doesn't have to be perfect if you're not selling them. Place the balls on to a baking tray lined with baking paper. (p.s. you might need 2 baking trays depends on the size of your spoon:))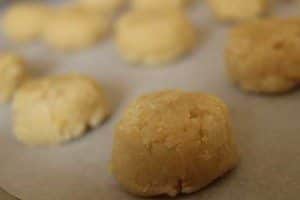 4
Gently press each ball to flatten.
5
The finishing touch, if you fancy, you can put a whole almond and push it gently onto the cookie ball. Sprinkle a bit of caster sugar and lightly brush a thin layer of water with your fingers on the top of them. This will bring out the caramelized almond flavor which will make it taste a little bit sweeter!
6
Bake your almond meal cookies for 20 minutes or until golden. (I personally prefer to bake them a bit longer, like 25 minutes so they'll be a bit crunchy outside.)
How useful was this post?
Click on a star to rate it!
Average rating 0 / 5. Vote count: 0
No votes so far! Be the first to rate this post.